In Summer, the Scarecrows took over our town – and with the approach of Christmas, we're hardly surprised that the Christmas Elves have decided to set upon Beaminster for the weeks leading up to Christmas!  They're up to their usual mischief – but this time, there's something in it for you too!
From Wednesday 2 December, when our shops start to open their doors again, until Monday 21 December, we're bringing you another great competition where you can win a wonderful Christmas hamper – just in time for Christmas, filled with things to eat and enjoy!
HOW IT WORKS
In 16 shops dotted around our town, Elves will be placed in the window – getting up to no good! Your job is to visit all 16 shops, write down what the elf in each shop window is doing, fill in your details on the form below and then pop it through the Public Hall's letterbox, no later than midnight 21 December!  You can either pick up a form from a number of shops in the town, the Town Council themselves or you can download your own copy from the website directly.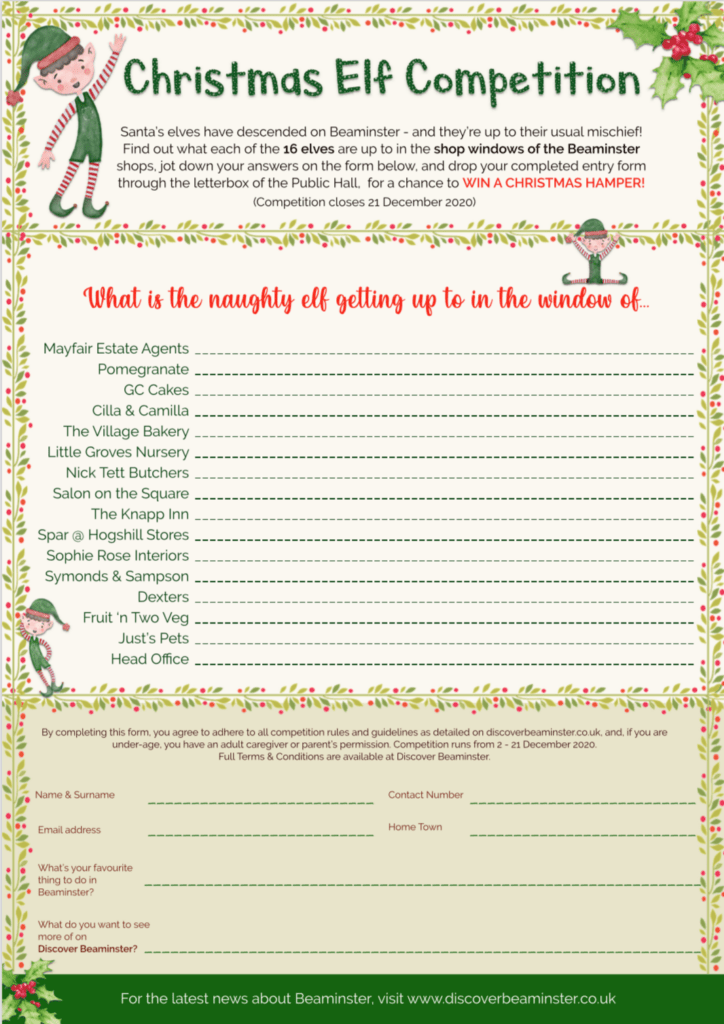 GET THE FORM
Download your own version of the Elf competition here. Click on the image below to open up the form, and download or print it!
THE FINE PRINT
The competition runs from 2 December 2020 and closes on 21 December 2020. Winners will be notified by phone or email by 23 December 2020.
Only one entry per person will be allowed.
Prizes may not be exchanged
Participants are requested to follow social distancing guidelines as detailed by the UK Government.
Only fully completed entry forms will be entered into the Prize Draw and will need to include contact information, the correct answers to each of the 15 show windows, and the relevant feedback details completed.
Children are to be accompanied by an adult and obtain full permission to complete the form to enter the competition.
Discover Beaminster and the Beaminster Town Council reserves the right to refuse entry, amend rules and substitute prizes.