Halloween DIY cocktails you can make at home!
Every day this week, we'll be providing inspiration for things to do this Halloween – when getting out and about is not an option!  And so this one is probably more suited to Mum and Dad, while the kids do pumpkin-carving or hunting!
We've scoured the recipe books, tried our own (hic), and we've found 3 fantastic Halloween cocktail ideas that you can make at home!

Eyeball & Hand Fruit Punch (Alcohol-free)
Serve this ghoulish fruit punch at a Halloween party for kids (or big kids). Stir the purple punch and lychee 'eyeballs' and frozen 'hands' will be revealed
Ingredients
425g can lychees
225g jar cocktail cherries
15 raisins
1 litre carton blueberry, blackberry or purple grape juice , chilled
1 litre carton cherry or cranberry juice , chilled
1litre sparkling water , chilled
You'll also need
2 pairs powder-free disposable gloves
Directions
STEP 1: Rinse the disposable gloves and fill each with water. Tie a knot in the top of each as you would a balloon, or use a tight bag clip to hold the opening closed. Freeze overnight.
STEP 2: Drain the lychees and cocktail cherries, reserving the juices in a jug. Push a raisin into one end of each cherry, then push the cherries into the lychees to make 'eyeballs'.
STEP 3: Tip all of the juices, plus the reserved lychee and cherry juices, into a large bowl with the 'eyeballs'. Carefully peel the gloves from the ice hands, add to the punch, then top up with the sparkling water.
---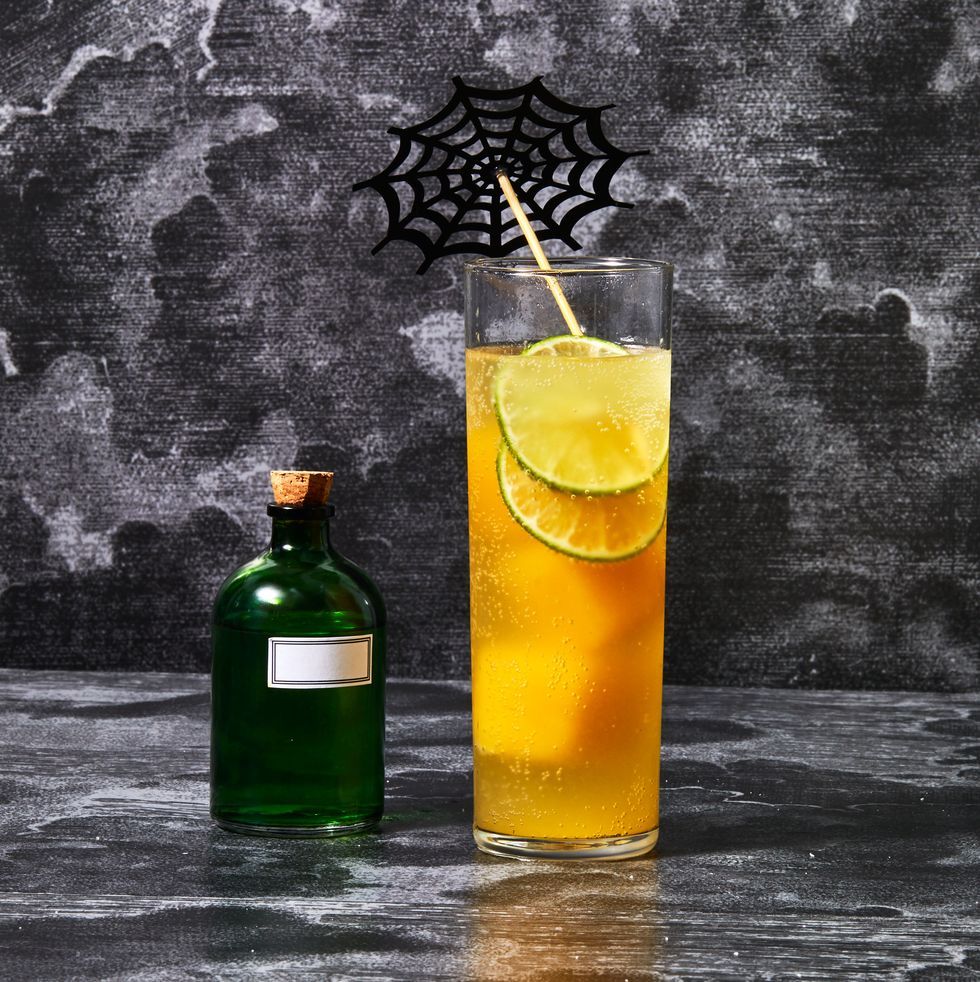 The Witch's Brew Cocktail
Forget toil and trouble: This simple cocktail is crafted by topping ice cubes made of apricot nectar and citrus juices with sparkling wine.
Ingredients
2 c. apricot nectar (or, you can use peach or pear juice or liqueur)
1/2 c. fresh lemon juice
1/2 c. fresh lime juice
1/2 c. fresh orange juice
Sparkling wine, for serving
Citrus zest, for serving
Directions
In a measuring cup, stir together apricot nectar and fresh lemon juice, fresh lime juice, and fresh orange juice. Divide between 2 ice cube trays and freeze.
Fill glasses with cubes and top with sparkling wine. If desired, serve with twists of citrus zest.
Yields: 6 servings and takes 10 minutes to make!
---

Zombie Smash Cocktail
This is a winner that anyone can make! Grab the staple ingredients and get brewing!
Ingredients
.5 oz gin
.5 oz vodka
.5 oz rum
.5 oz triple sec
1 oz lemon juice
1 oz simple syrup
2 strawberries, muddled
Directions
In a mixing glass, muddle the strawberries with the lemon juice and simple syrup. Add the other ingredients with ice. Shake vigorously and pour contents into a tall glass. Garnish with strawberries.